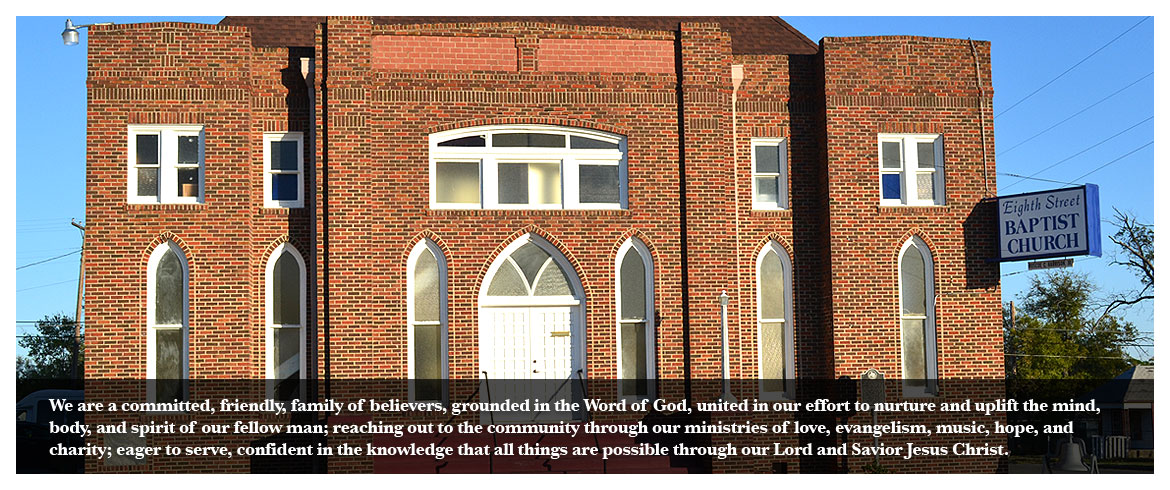 Welcome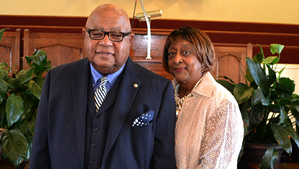 The Pastor and members of the Eighth Street Baptist Church would like to welcome you at anytime you visit our church. We consider it a privilege to have you worship with us and sincerely hope you received a blessing from our service. It is our desire to be a Friendly Church giving people a positive Christian witness in the Spirit of Worship. We hope you will feel at home during your visit.
Upcoming Events
2020
April
Sunday April 5th - Palm Sunday
Sunday April 12th - Easter Sunday
April 24th and 25th - Texas State Missionary Baptist Convention Woman's Conference, Canceled per President Linda Turner (Please see July date)
May
Friday May 1st - Willow Grove District Third General Board Meeting at Rose of Sharon Baptist Church Waco TX Cancelled
Sunday May 10th - Mother's Day
Sunday May 17th - Men's and Women's Day at 10:00 a.m. Cancelled
Sunday May 31st - Mission Sunday (Women in Charge)
June
Tuesday June 2nd - 4th - Willow Grove Youth Revival at First Baptist Church NBC Cancelled
Sunday June 7th - Willow Grove WMU Day at Eighth Street Baptist Church at 3 p.m. Pending
June 15th - 19th Eighth Street Baptist Church Vacation Bible School Cancelled
Sunday June 21st - Father's Day
Sunday June 28th - Willow Grove Annual Laymen's Day 3:00 p.m. First Baptist Church NBC Waco, TX Cancelled
July
School Supplies Donation - See Debbie Wilson
Sunday July 12th - Willow Grove Session's Opening Celebratory Musical Baptist Church, BC,
Waco TX
July 13th - 17th - 137th Congress of Christian Education and Annual Session
July 24th - 25th - Texas State Missionary Baptist Convention Killeen TX
(Deadline for Registration is July 1st 2020)
August
Saturday August 15th - Eighth Street Baptist Church Becoming Back to School Event
Sunday August 30th - Mission Sunday
September
Sunday September 13th - Eighth Street Baptist Church Golden Age Day
Saturday September 26th - Eighth Street Baptist Church Family Fun Day
October
Sunday October 18th - 138th Church Anniversary at 3:00 p.m.
November
Sunday November 29th - Mission Sunday
December
Sunday December 13th - Eighth Street Baptist Church Christmas Fellowship Dinner
Gober Party House
Sunday December 20th - Youth Christmas Program
Thursday December 31st Watch Night Service (TBA)
Eighth Street Baptist Church
Service Times & Location
Sunday
Sunday School: 8:30 am
Morning Worship: 10:00 am
Monday
Mission: 4:00 pm
Mission II (Matrons): 6:00 pm 1st and 3rd Monday
Trustees: Every 2nd Monday 6:30 pm
Brotherhood: 1st and 3rd Monday 6:30 pm
Tuesday
Business Meeting: Quaterly - 6:30 pm
Deacons Meetings: Called Meetings
Ushers Meeting: Quaterly 5:00 pm
Wednesday
Prayer Meeting/Bible Study: 6:00 pm
Thursday
Choir Rehearsal: 6:00 pm
Friday

Saturday
Youth Meeting: Every Saturday @11:00 am
The Eight Street Baptist Church
215 South Martin Luther King Blvd
8th Street Temple, Texas 76501
Phone: 254-773-2598
REMINDERS
Listen to Evelyn Cockrell's Inspirational Commentary every Sunday at 8:30 p.m. on 98.5 FM
Watch Pastor Roscoe Harrison on KNCT-TV's "FOCUS" every fourth Friday evening at 8:30 p.m.
Open Prayer Line -