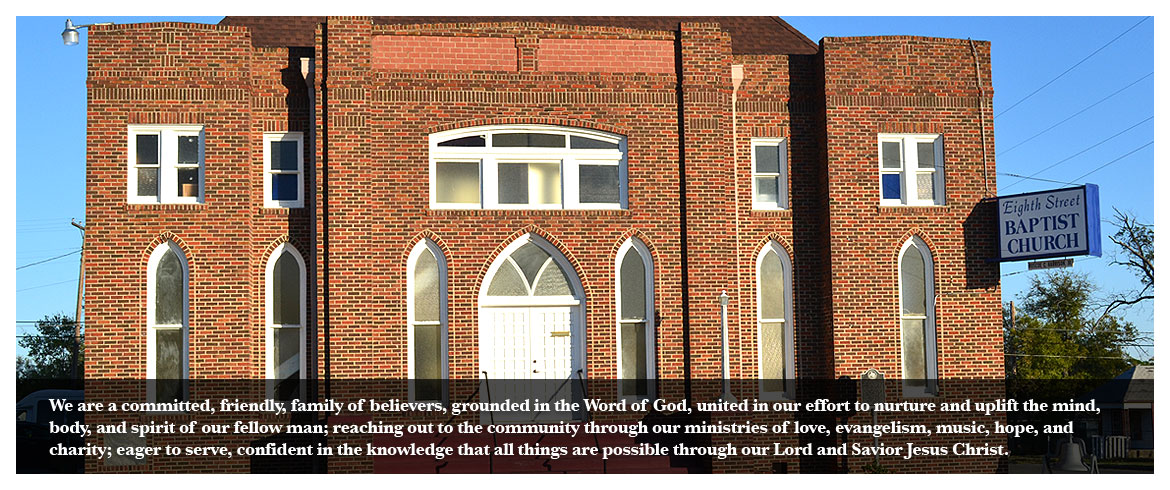 Welcome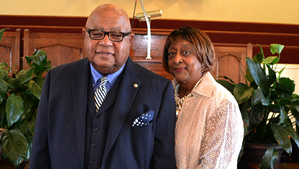 The Pastor and members of the Eighth Street Baptist Church would like to welcome you at anytime you visit our church. We consider it a privilege to have you worship with us and sincerely hope you received a blessing from our service. It is our desire to be a Friendly Church giving people a positive Christian witness in the Spirit of Worship. We hope you will feel at home during your visit.
Upcoming Events
2019
Sunday April 21st - Easter Sunday, Community Sunrise service to be held 6:30 am at Waymon Chapel 407 East Ave D. Temple TX
Friday April 26th - Saturady April 27th Texas State Missionary Baptist Convention Women's Conference, Killeen TX
Friday May 3rd - Willow Grove District Third General Board Meeting at Rose of Sharon Baptist Church Waco TX
Sunday May 14th - Mother's Day
Sunday May 19th - Men's and Women's Day at 3:00 p.m.
Sunday June 2nd - Willow Grove WMU Day at Eighth Street Baptist Church
Monday June 10th - Friday June 14th - Vacation Bible School 5:00 p.m. until 8:00 p.m.
Sunday June 16th - Father's Day
Sunday June 23rd - Willow Grove Annual Laymen's Day 3:00 p.m. First Baptist Church NBC Waco TX
Sunday June 30th - 5th Sunday Mission Day, Laymens Department
Sunday July 14th - Friday July 19th - Annual Session of Willow Grove District Association at First Baptist Church, BC, Waco TX
Saturday August 17th - Eighth Street Baptist Church Youth Back-To-School Blast
Sunday August 18th - Family and Friends Day
Sunday September 15th - Eighth Street Baptist Church Golden Age Day
Saturday September 28th - Eighth Street Baptist Church Family Fun Day
Sunday September 29th - 5th Sunday Mission
Sunday October 20th - 137th Church Anniversary at 3:00 p.m.
November - Community Thanksgiving Service (Location TBA)
Sunday December 8th Eighth Street Baptist Church Christmas Fellowship Dinner (Location TBA)
Sunday December 22nd Youth Christmas Program
Sunday December 29th Mission Sunday Laymens Department
Tuesday December 31st Watch Night Service (TBA)
Eighth Street Baptist Church
Service Times & Location
Sunday
Sunday School: 8:30 am
Morning Worship: 10:00 am
Monday
Mission: 4:00 pm
Mission II (Matrons): 6:00 pm 1st and 3rd Monday
Trustees: Every 2nd Monday 6:30 pm
Brotherhood: 1st and 3rd Monday 6:30 pm
Tuesday
Business Meeting: Quaterly - 6:30 pm
Deacons Meetings: Called Meetings
Ushers Meeting: Quaterly 5:00 pm
Wednesday
Prayer Meeting/Bible Study: 6:00 pm
Thursday
Choir Rehearsal: 6:00 pm
Friday

Saturday
Youth Meeting: Every Saturday @11:00 am
The Eight Street Baptist Church
215 South Martin Luther King Blvd
8th Street Temple, Texas 76501
Phone: 254-773-2598
REMINDERS
Listen to Evelyn Cockrell's Inspirational Commentary every Sunday at 8:30 p.m. on 98.5 FM
Watch Pastor Roscoe Harrison on KNCT-TV's "FOCUS" every fourth Friday evening at 8:30 p.m.
Open Prayer Line -